Ninja in A Blazer – 19th May 2023
What would a pig farmer know?!?
I saw this random article on social media about Samuel Benner, so I looked into it further, a US pig farmer from the 1800s had identified years of panic, years of good times, and years of hard times.  The Benner cycle also uses a 27-year cycle in pig iron prices with lows every 11,9,7 years and peaks coming in at 8, 9, 10 years.  

I'm lead to believe that it was only wrong once in the entire 100 years, and it was only wrong by 1 year, before reverting back to correct.
So we'll be watching this chart for a while.  Check it out below.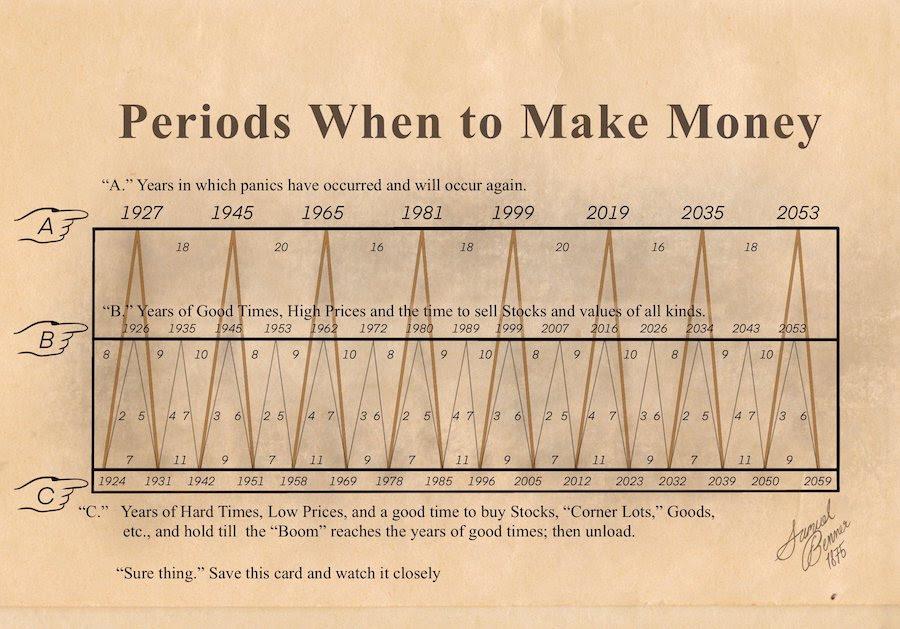 On another note, this week I had a seller tell me to withdraw their property from sale and terminate the selling agreement.
Now I hate doing this, but there was a slight miscommunication and it felt like the seller had basically blamed me for their property not selling, even though I actually got them a pretty decent offer in the end, but with the other agent in their ear telling them it was my fault, my back was against the wall.
To give you the back story:  This property had been self-managed for 25 years and they'd never physically inspected it.  The tenant never complained about any issues as they didn't want anything fixed as they were afraid the rent would go up.
In the end, the tenant started their own home business, saved up enough money to buy themselves a house out a Petrie and moved out, leaving the owner with a lot of repairs to be done.  It wasn't just the holes in the walls, holes in the ceiling that were the issue.
When I appraised it, I had seen a fairly poor condition 3 bedroom house sell for $710,000 and so being a 4 bedroom, we were thinking $750,000 might have been around the money, but due to one issue I suggested it might be good to get a building and pest on it to confirm the roof wasn't going to collapse over head (maybe a bit exaggerated).  Well, the building and pest inspection brought up live termites, rising salt damp, sloping concrete slab.  
Now, it's all repairable/manageable, and just a little bit of maintenance over the years would have stopped most of these issues actually occurring.  So by saving (I don't know) $30-40/week = $1800/year for a property manager to do 3 inspections and handle any repairs (many of the repairs might have been less than $500 if they'd been handled when they first occurred.
So 25 years of property management (which is a tax deductible expense BTW) = $45,000 and lets say $500 repair per year = $12,500 (again tax deductible expense). 
If all this was done, the house would likely be much neater and have no issues and yes, it would likely be leaning towards a freshen up of paint and carpet and sell for around $800,000, but instead it's likely going to need new timbers, new gyprock, new flooring, new carpet, new paint, possibly new roof, new downpipe connections, tree removal, and while you're doing all that, yes the bathrooms and kitchens are functional, but you might as well do them at the same time.  Someone will end up spending over $100,000 to $150,000 to repair the property.

Moral of the story, if you're going to self-manage your property, go to the effort of making it a legal agreement and have inspections – alternatively get in touch with me and I'll put you onto a rental team that can help you manage your investment property.  The best thing about this, if you've got any issues you can simply reach out to me and I can follow things up on your behalf.