Keeping it simple is always best, if it's a quick fix, then by all means tidy the garden with some extra mulch or add some edging and garden beds with some plants.  Buyers may be put off with too much landscaping, but also too little.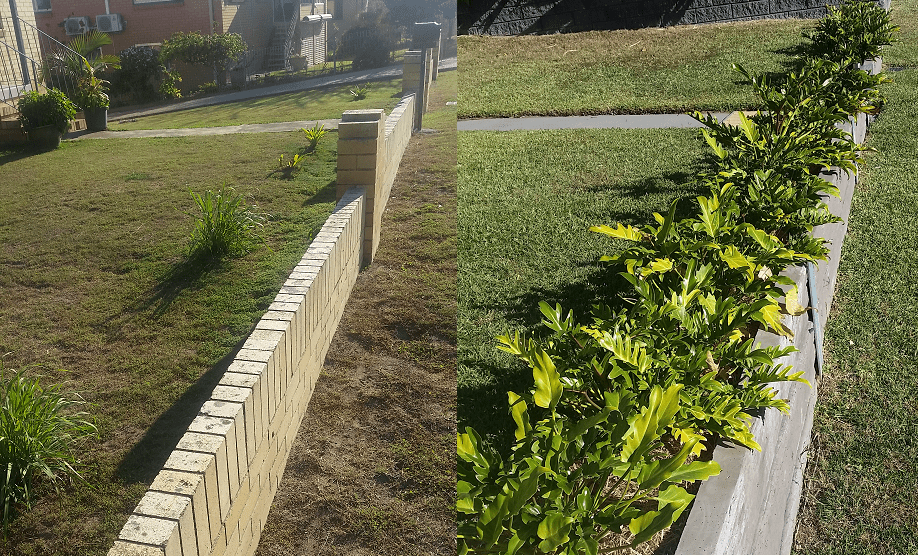 Which would you prefer? Click to enlarge image.
For inspiration I would look at your neighbours to see what grows well, and also for free landscaping planting ideas look no further than your local council gardens or new commercial building gardens.  Often local councils and commercial buildings employee landscape designers to come up with low maintenance gardens that look good all year round.
Some plants I like seeing and plants worth considering in and around Brisbane are:
Murraya Pannicula –  when properly pruned can create an excellent hedge in a couple of years, but gives the effect of a hedge in progress early.  The closer the planting the faster the hedge forms.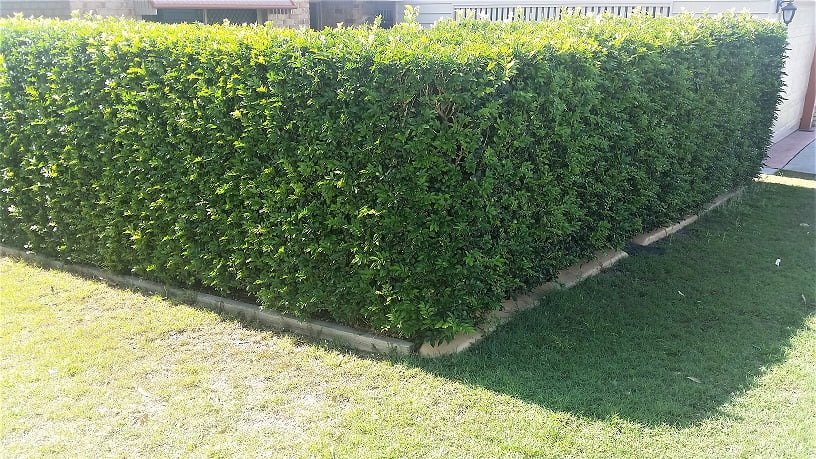 Click to enlarge image.
An alternative hedge is the striking Photinia Robusta 'Red Leaf Photinia' or the dwarf version Photinia Glabra 'Rubens' with a glossy red new growth evolving to a sharp green colour, this plant can look amazing when clipped into a hedge.
As a general rule of thumb for hedging you can use a ratio of 3 high x 1 apart. For instance, if you want the hedge to reach 4 metres tall, plant material 1.3 metres apart. If you want the hedge 1 metre high, plant material 33cm apart.
With all hedges, I find that you need to prune them semi-regularly to stop them from becoming 'woody' and getting too big too quickly and not thicken up.  They begin to look more like uncontrolled trees than they do a hedge.  Keep in mind, a lot of hedging plants can grow quite tall, so you will need to stay on top of these to keep them at a manageable height.
Trachelospermum Jasminoides 'Tricolour' – for a creeping bordering plant – alongside a path, or on the edge of the lawn.
Philodendron 'Xanadu/Winterbourn' – for a bordering plant – alongside a path, or the edge of a bordered lawn, it can't be spot planted for different effect.
Click to enlarge image.
Photo supplied by Cityscapes Pool & Landscaping
Zamia Furfuraceae 'Cardboard Plant' can be used as an impact plant, much the same as a large Bromeliad, this plant can be used as a central feature in your garden, or many can be planted creating a larger Gondwana like border around the outside of smaller plants.
Alcantarea Imperialis 'Silver Plum' or 'Rubra' Bromeliads have a red/burgundy and green/silver combination that when planted in the right position can create a feature when surrounded by smaller Bromelias or even on their own.
Bamboo can take over your garden, so as an alternative, there is a clumping grass called Thysanolaena Maxima'Tiger Grass' which can grow over 2m tall in clumps approximately 50-100cm in diameter.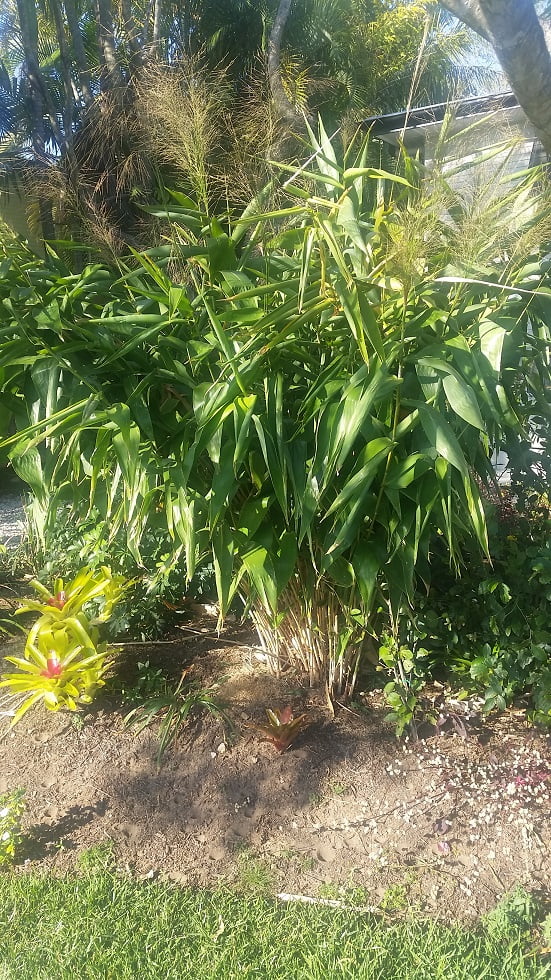 Click to enlarge image.
Raphis Excelsa 'Lady's Fingers' Palm can look really striking when they grow together with plenty of water.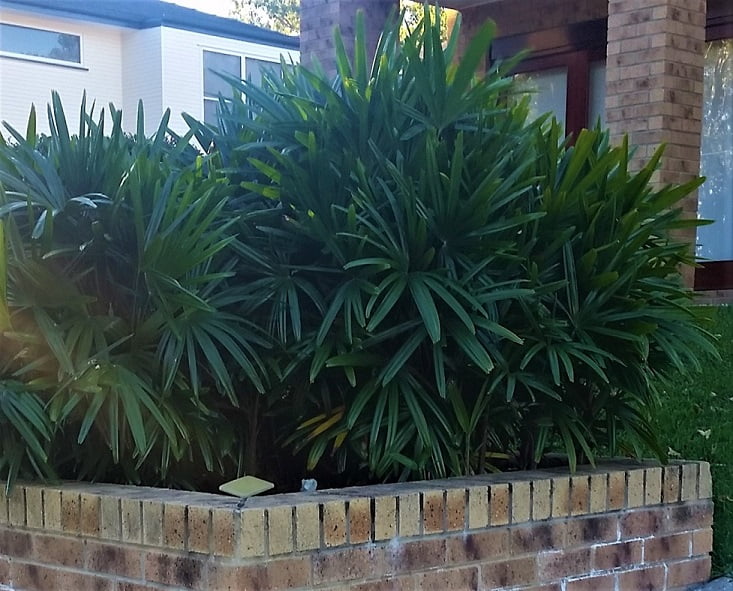 Click to enlarge image.
Sansevieria Trifasciata 'Hahnii' is a smaller version of the 'Mother-In-Law Tongue' otherwise known as the 'birds nest', which can have the bulb clumps separated and replanted to propagate.  You can use this as a bordering plant or as clumps amongst other plants.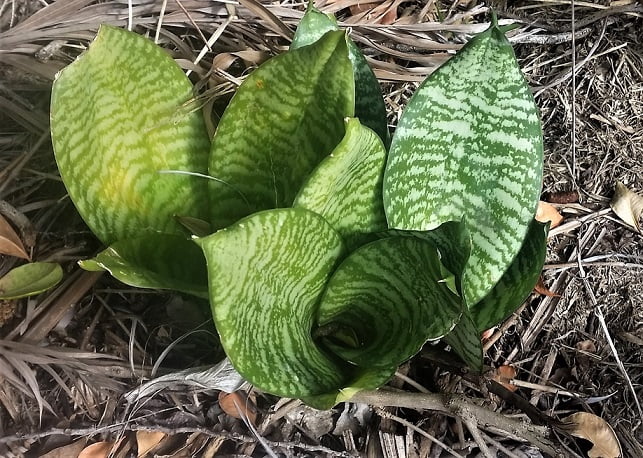 Click to enlarge image.
Contrasting to the 'Hahnii' is the Tradescantia Spathacea 'Moses in the Cradle' which has a burgundy and green colour that works great as an edging plant in large clumps.
Heliconia Angusta 'Red Christmas' is an excellent "forest under-story plant" which produces some amazing flowers against dark green foliage.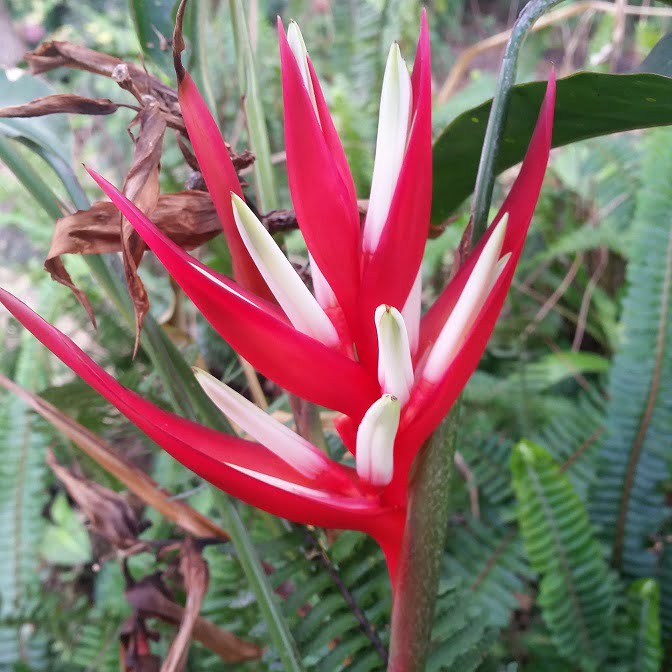 Click to enlarge image.
Would you like to maintain side access, think about some pavers surrounded by another medium such as river bed stones, utilising the pavers as stepping stones.  Even the most simple of paths can look interesting.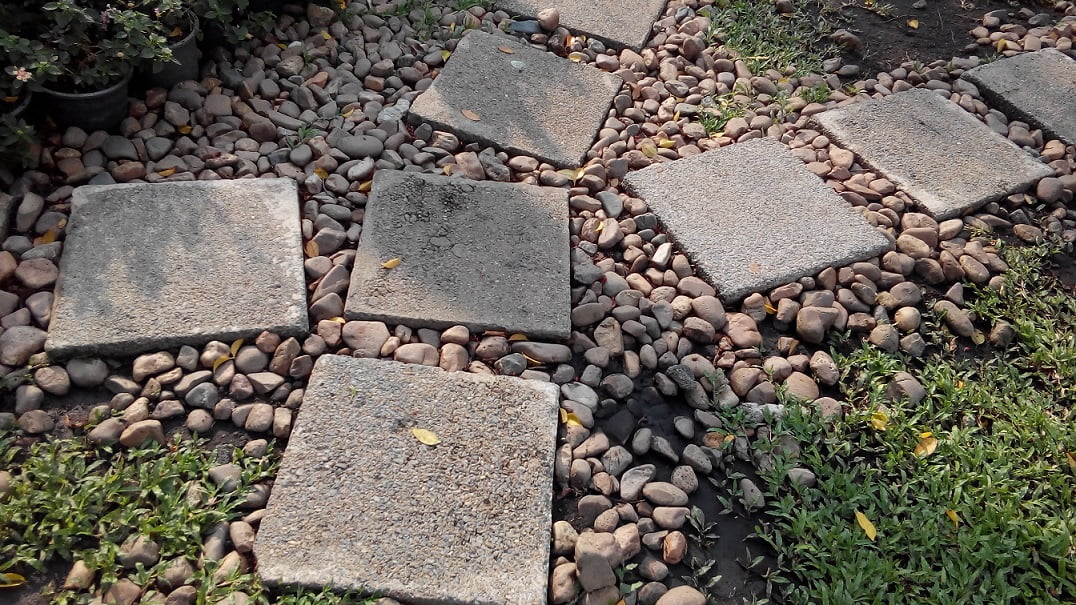 Click to enlarge image.
Landscaping is all about working with contrasts. Contrasting colours, heights, textures to achieve the goal of the end user. When you're looking at plants, put them side by side as you would in your garden and determine if they work together.
An example of DIY Gardening to sell.
Setting out with a budget of $1500, close friends of mine have recently finished upgrading their blank backyard to an entertaining oasis they can use every day.
Use the slide bar below for before and after comparisons.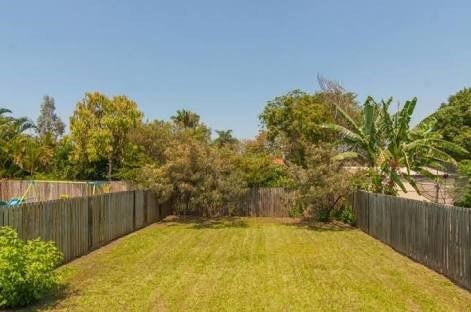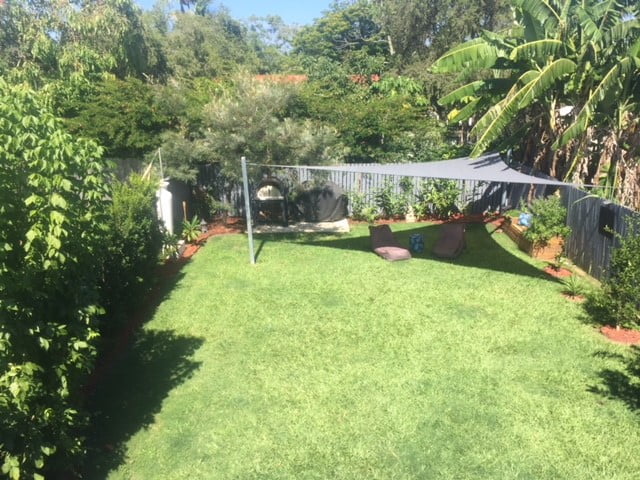 To keep costs down, they used cuttings from families tiger grass for screening.   Picked up free pallets from businesses who didn't want them to build herb garden/planter seat.  They attended markets for lillie pillies and fruit trees which were much cheaper then buying from garden centres.
Utilised their own ability with DIY concrete and DIY Shade cloth and posts kept costs down and gave an entertainment area feel with much needed shade! 🙂
And gave their lawn lots and lots of TLC (Tender Loving Care) – water, fertilizer and appropriate weeding.
Click to enlarge image.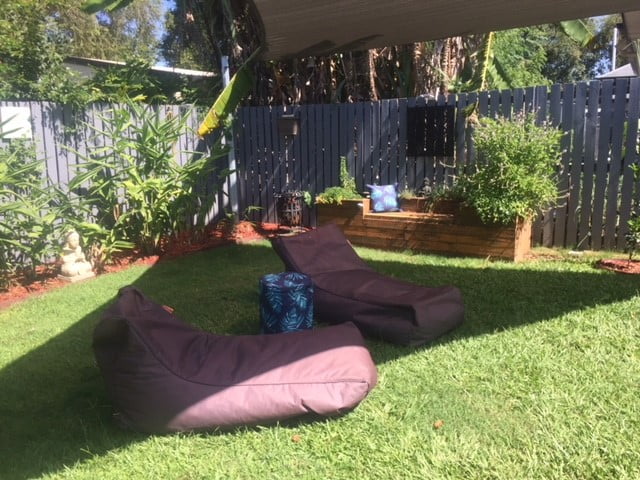 Click to enlarge image.
If you don't want to do it yourself, you can always get in the professionals.
Check out the sixth edition of the Brisbane City Council Green Gardening Guide for tips on making your garden greener.