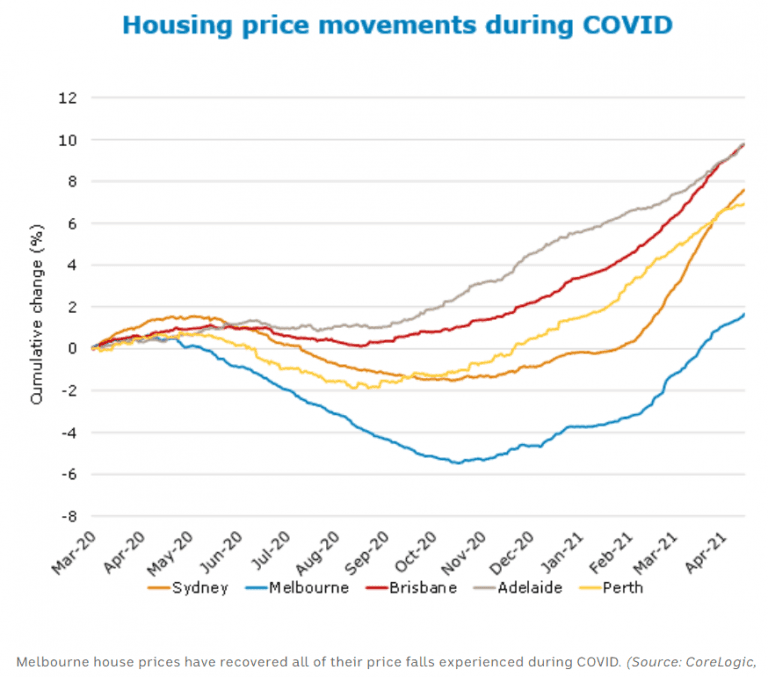 April 2021 Market Report (May 5th)
Another month (April) has now passed, and we are edging almost to the mid of 2021. We do hope that you managed to take some time off to relax and spend with family and friends during the Easter Holidays as well as on the many long weekends that we have been so lucky to have.
Big underlying reason for the current boom?
An interesting article that I came across on the 27th of April published by news.com.au showing an important statistic for a factor fuelling the strength of this "crazy" market that we are experiencing. The statistics shows that in March 2020 just 8% of first home buyers were receiving support from their parents in terms of deposits, where according to the latest DFA figures, more than 60% of first home buyers are now receiving help from their parents in compiling this deposit. As we are selling in a market that has a significant proportion of first home buyers this explains what we are seeing on the field, where first home buyer that once upon a time only had budget to $450,000 – $550,000 are now buying homes up to $750,000-$850,000+.
House price trend since lock down
The graph above shows housing prices during Covid until the present day. If you follow the red line on the graph that represents Brisbane we can clearly see that house prices started to take slide down during the first 6 months of lock down. There was not a sharp fall in prices, possibly due to mortgage freezes and job keeper payments protecting the overall price of the market.
You can also see the massive 10% increase in Brisbane house prices from roughly September 2020 till today. In our local market we are seeing rises as high as 15-20% since September for 2020 for most houses. The townhouses and unit market have generally experienced an increase but at a level that is significantly smaller than the house market.
What is happening specifically in our local market?
On the local front in terms of price we have found that most houses in the area around our office have growth far beyond the 10% based on Brisbane averages. We are selling most houses from the first open home with multiple offers. We have found available property numbers on the market have dropped significantly which continue to push prices up due to buyers fear of missing out.
We have all heard of the Fear of Missing Out fuelling the market, however the biggest current issue fuelling the market is the Fear of Moving Out. Sellers that are wanting to upgrade or downgrade in the current market are unable to find a suitable property, so they're staying put until something comes up.
Many current sellers are simply not in a position to get bridging finance, and cannot buy subject to sale making it impossible to make a change in the current market. Based on my experienced I believe more sellers will be motivated and willing to take the risk to sell before buying with a longer settlement period (which we are already seeing) which in return means more stock on the market and eventually the market will balance out.
Biggest advice for potential sellers in the current market?
We like to be transparent and honest, which can come across as blunt sometimes, however to ensure our clients maximise their sales price we are advising clients with a property situated on either a main road, close to train line, close to big powerlines, with quirky layouts or designs etc etc…. to capitalise on the current market and if they have been thinking of making a change they should seriously consider selling in the current market. For example, we found that in a normal market when selling any homes that backs onto a train tracks, we are finding that they were known to take up to 90-120 days to attract the right buyer and would end up selling for 5-10% less than the exact same house that is one street away. We have found in the current market due to lack of homes for sale and rental options, the hot buyers are getting along to these properties and many of them are selling with multiple offers quite quickly and the price gap with inland houses closing.
Alternatively, if you are looking to use the equity in your property, it would be beneficial to speak to the bank about borrowing equity from your current home to do any renovations or extensions you've been putting off in the past.below
Australian Market Overview
Most capital cities are recovering well as predicted post-recession.  We probably didn't see quite as many "bargains" as we expected during the Covid period.
Melbourne and Sydney are on the move again, with a shortage of available houses on the market giving sellers a Fear of Moving Out.
Brisbane has seen a major influx in interstate migration with a net migration of over 7,200 people moving to Queensland in the September quarter.
Perth is recovering after many years in the downturn of the oil and gas industry.  Expect good growth in Perth over the next few years as industries tend to expand into different areas.
There is a shortage of properties for sale and rent in all capital cities, so demands are extremely high combined with the low interest rates, it's a great time to sell but more so if you're downsizing.